Apr17
Tags
Related Posts
The Burner Beer Project: Spring Seasonal Roundup
Ahhh, Springtime! The weather's turning, flowers are blooming, trees are budding, people are wearing clothes that show off some skin, and a new round of spring seasonals is in a liquor store near you. Generally speaking, seasonals are a bit of a mixed bag. Brewers are often trying out new flavors and styles while at the same time trying to match a brew to the season. And it must be said that spring is a tough season to match a beer to. It's warm, it's cold, it's cool, it's hot, it's wet and grey, it's a clear, gorgeous day. The other three seasons are a cakewalk by comparison: summer should be refreshing; winter should be warm, dark, and comforting,;and in autumn you load up on the hops and spices, slap an Oktoberfest label on, and you're good to go. All of this is a long way of saying that what follows may be a bit scatter-shot. Some of these beers really spoke to me and others still were good but just didn't inspire much commentary. 
Sierra Nevada (Available everywhere beer is sold)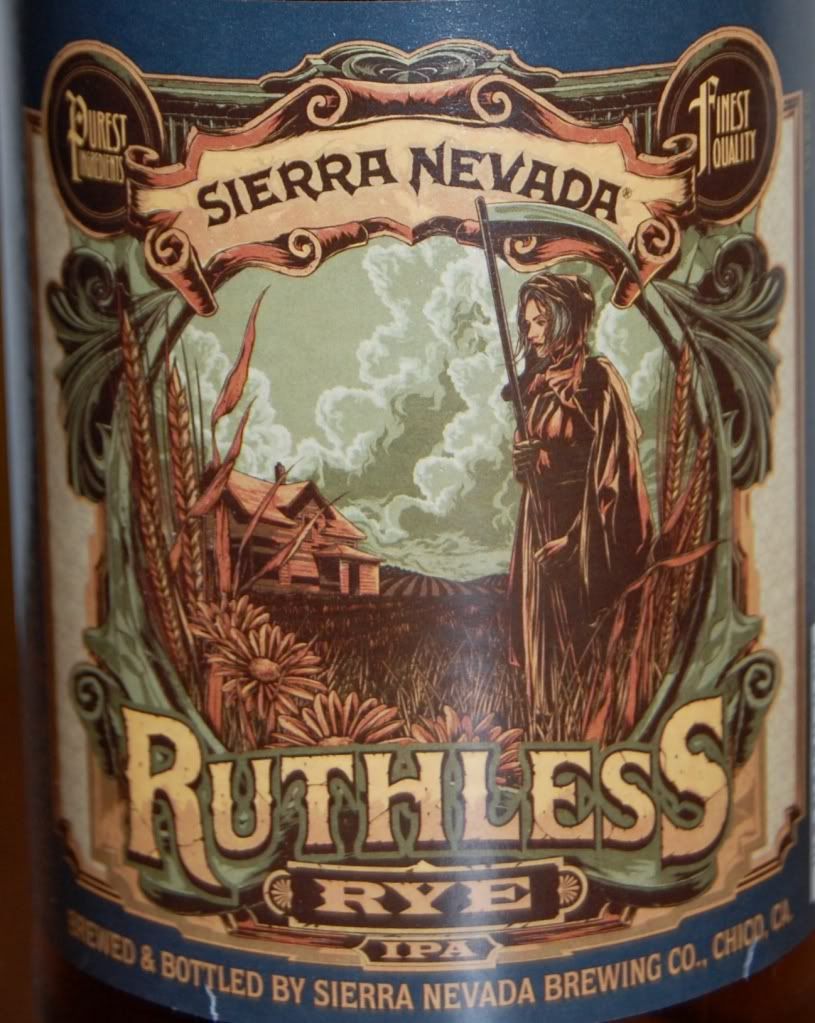 Ruthless Rye IPA (6.6% abv)
Bottle copy: "Ruthless Rye IPA is brewed with rustic grains for refined flavors – combining the peppery spice of rye and the bright citrusy flavors of whole-cone hops to create a complex ale for the tumultuous transition to spring."
Impressions: From "nose" to first sip, this is clearly something more substantial than your usual IPA. It's a flavorful beer, but the hops are backgrounded to a certain extent, relegated to the finish and aftertaste. There is a certain hoppy skunkiness in the "nose," although that doesn't really carry through to the first taste. A pleasant bitterness. This is a beer that inspires negative-sounding words despite the fact that it's very good. Ruthless Rye has a nice mouth warmth that hangs around, and it is a good midweight beer with lots of flavor but is not heavy in anyway. It's also much less bitter and hoppy than some IPAs, which is a bit of a surprise since this comes from Sierra Nevada.
Would I recommended it? Yes. Lots of flavor without being overpowering. You can drink one or all six and be happy either way. Can't complain about that 6.6% abv, either. Update: In fact, I liked this beer so much I went out and picked up a twelve pack just to have around the house.
Samuel Adams (Available everywhere)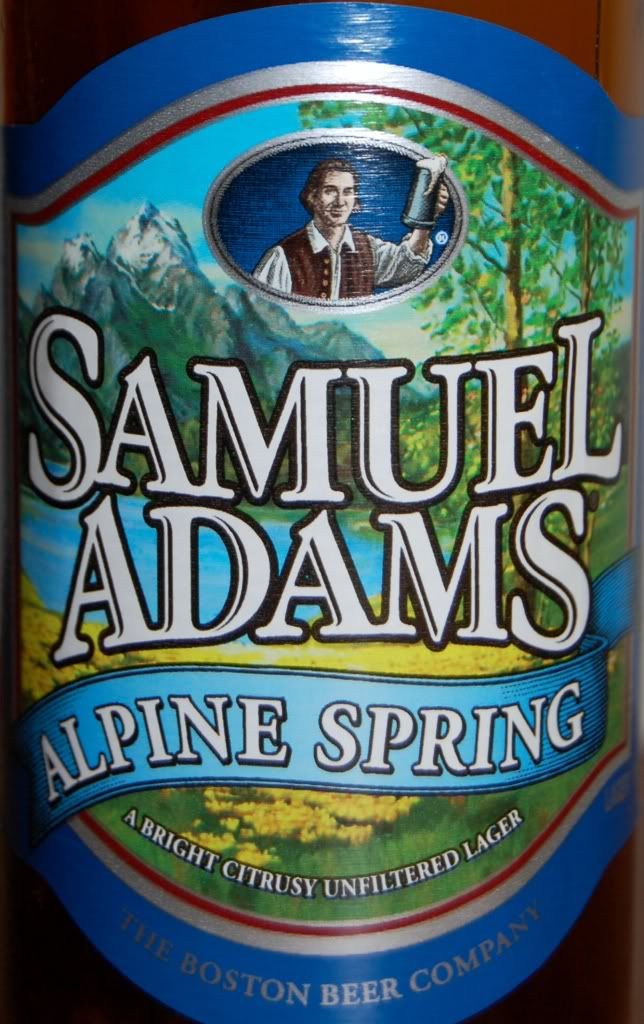 Alpine Spring (5.5% abv)
Bottle copy: "This unfiltered lager is perfect for spring. Noble Tettnang hops, grown in the foothills of the Alps, give this brew a bright citrus and floral aroma and flavor. These are balanced by the slightly sweet crisp notes of two-row pale and honey malts."
Impressions: Sam Adams turns in a surprisingly lager-like spring seasonal with Alpine Spring. Golden and cloudy, it has wheaty body with a hint of fruitiness but very little hops flavor, especially for a Sam Adams beer. Really, though, there's almost nothing to this beer. It's sort of like a Budweiser with a hint of fruitiness to it.
Would I recommend it? No. I mean if you're the sort of person who doesn't really like beer…say a Miller Lite drinker who wanted to get something ever so slightly nicer with just a bit more taste, then you could pick this up. Also, this beer is so light it really should be a summer beer, not a spring beer.
New Belgium (distribution map)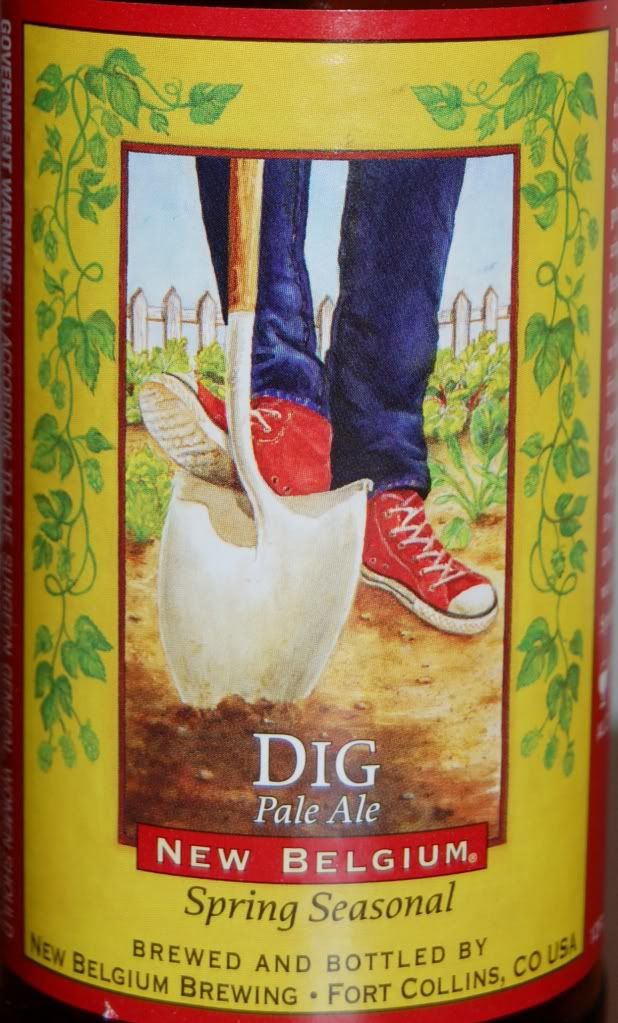 Dig (5.6% abv)
Bottle copy: "Unearth your bottle-opener because this pale ale is something you can Dig. Sorachi hops provides a fresh spring zing with incredible lemon aroma. Nelson Sauvin is next in line with bursts of passion fruit, mango, and peach. American favorites, Cascade and Centennial round out this crisp, Clean Pale Ale. Dry, crisp, and clean, Dig Pale Ale plants the welcomed taste of Spring in your hand." 
Impressions: Dig is the sort of pale ale I can get behind. Amber in color, it's fruity and hoppy right up front, managing to be very light and easy drinking without sacrificing a lot of flavor. The hops really recede after the first few sips, leaving you with a pleasant fruity bitterness.
Would I recommend it? Yes. This is a really a sort of light IPA. The hops could have been more prominent for me, but this beer managed to create a fruity, easy-drinking beer without the fruitiness being too cloying or sweet.
Red Hook (Available nationwide)
`
Nut Brown (5.8% abv)
Website copy: "This medium dark beer is layered with rich malty aromas and flavors of chocolate, caramel, brown sugar, and a hint of vanilla. Although it may be dark in color, it's refreshingly smooth and highly sessionable. Nut Brown is the perfect beer for spring."
Impressions: Reddish brown in color, Nut Brown is a mild, slightly bitter beer without a trace of hoppiness. It has a clean, lightly creamy texture and goes down easy. I think it does work as a spring beer. It has enough body to work on a cool day but is light enough to drink on warm days.
Would I recommend it? Yes, but with a caveat. This is a pleasant little beer, but I didn't find anything special about it.  My wife, Laura, on the other hand, liked it a lot. This has me wondering once again if I may have blown out my beer palate by drinking too many IPAs. As long as you don't demand a ton (excessive amount?) of flavor from your beer, you'll probably like this.
Deschutes Brewery (availability map)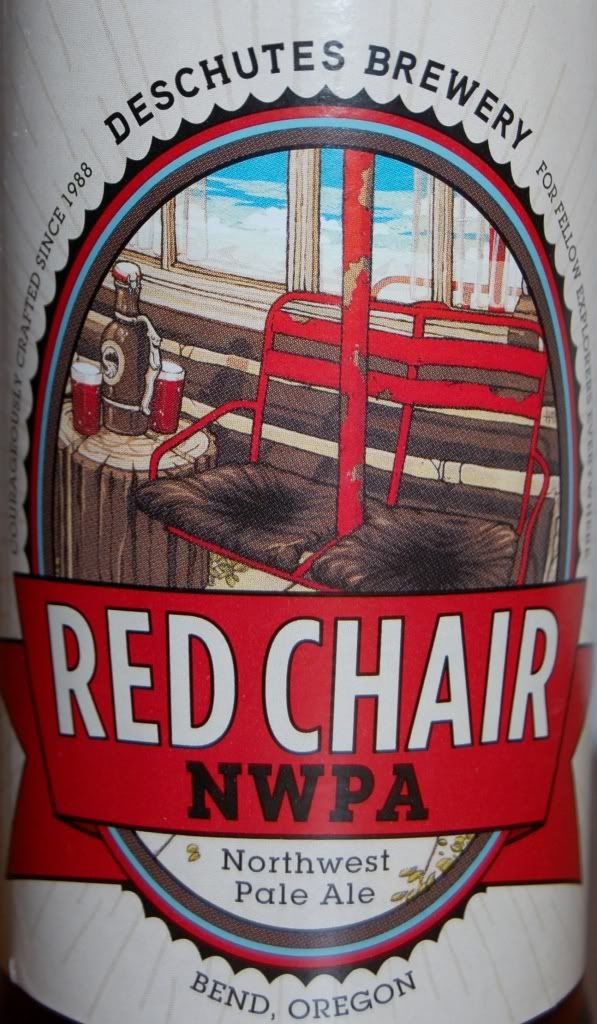 Red Chair Northwest Pale Ale (6.2% abv)
Bottle copy: "Witness the sublime aromatic seduction of the debut Northwest Pale Ale. Another slap at brewing convention. Another kick in the pants." and "Not up for a full-on hop assault? Red Chair NWPA is a smoother ride. Seven select European and domestic malts take a surprisingly plush, satin turn  on the way to a citrusy hop kick. Edges out, layers in."
Impressions: Deschutes is one of my favorite breweries and comes though with another winner here. The Red Chair Northwest Pale Ale is cloudy and amber running to orange. It is pleasantly fruity and hoppy without a lot of bitterness. Overall, a bright and crisp beer.
Would I recommend it? Yes. I really like this beer. It was nicely hoppy and went down easy. Like the Red Hook Nut Brown, it managed to balance crisp refreshingness with a flavorful body. I'm generally in the bag for anything that comes out of Deschutes Brewery, and Red Chair is no exception.
Alaskan Brewing (distribution map)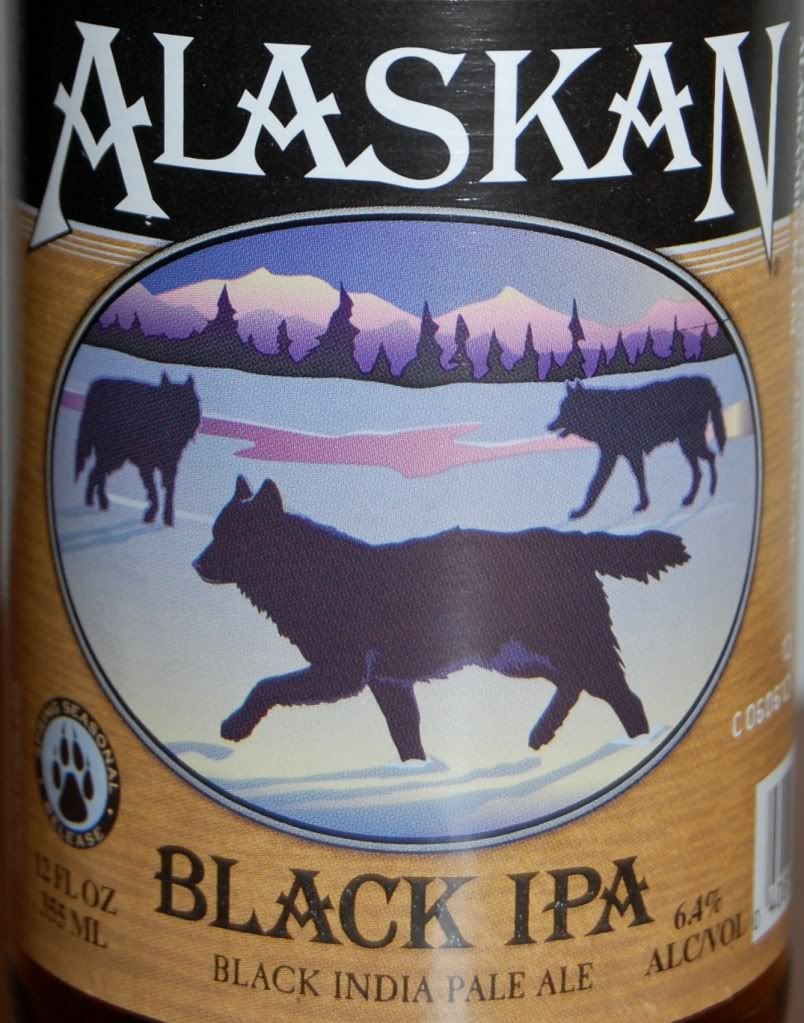 Black IPA (6.4% abv)
Website copy: "Alaskan's spring seasonal features the hop-forward profile of an IPA with the dark black color and flavors of a fuller-bodied porter. A burst of fresh, citrus notes from Cascade and Centennial hops balance the hints of coffee and bitter chocolate with a subtle toasted sweetness and dark fruit highlights leading to a pleasantly dry finish."
Impressions: Alaskan's Black IPA is creamy and medium-bodied, starting out toasted, with maybe a hint of chocolate. Overall, it's pleasantly bitter with a complex hoppiness somewhat masked or changed by being such a dark beer. The closest comparison may be to call it something akin to a Scotch ale.
Would I recommend it? Yes, but only after you've tried the Ruthless Rye IPA from Sierra Nevada. In both cases you're dealing with a darkish beer with complex hops flavors. The Black IPA, as its name indicates, is darker. It's a good beer, but I prefer the Ruthless Rye.
So there you have it, the Spring Seasonal Roundup. The clear winner for me was the Ruthless Rye, and the clear loser was Sam Adams's sad, bland Alpine Spring. I'd also give a nod to New Belgium's Dig on a particularly warm spring day. Really, you can't go wrong with most of these beers, so get out there and try something new.