Jun07
Tags
Related Posts
The Burner Beer Project: March and April Edition
Welcome back to the Burner Beer Project, where we look at the four beers that arrive every month as part of a Beer of the Month club. We've been away a while, so let's dive right into the beers. 
March
Palm Beach Brewing
Shoal Draft Pale Ale
Palm Beach Brewing's Shoal Draft Pale Ale is a golden-hued, medium-bodied pale ale. ("The Frosted Mug" inexplicably describes it as "deep red in color.") Lightly fruity, the Shoal Draft manages to be both smooth and creamy and still be crisp and refreshing. "The Frosted Mug" also rightly calls out "the two-malted barley row, which gives the beer its exquisitely balanced taste." Points off for hyperbolically using "exquisitely," but I'll cut them some slack since this is a really nice beer.
Would I recommended it? Unreservedly, yes. While it's not very hoppy, this is a very nice pale ale that I would be more than happy to drink, especially on a hot day. Plus, it's Laura's pick of the month!
Old Dominion Brewing Co
Oak Barrel Stout 
Old Dominion's Oak Barrel Stout comes out syrupy and pitch black with a thin brown head. Going down, it's smooth and rich while still being light enough to be enjoyable on a warm day. Both on the bottle and in "The Frosted Mug," Old Dominion makes a lot out of the vanilla elements in the Oak Barrel Stout. And yes, while the vanilla is noticeable alongside the roasted bitterness, it's hardly been pushed "even further up the flavor spectrum" as they claim in their ad copy. They mention using "peated malts," which, if my memory of distillery tours and scotch tastings serves, is supposed to add a smokiness to the beverage that's thankfully lacking here.
Would I recommend it? Ye–es? This is a nice little stout that manages not to be too sweet or too burnt tasting. But at the same time there's not a whole a lot going on here flavorwise. I'm really starting to worry about having ruined my taste for anything that doesn't bring the hops, you guys….
Cape Ann Brewing Company
Fisherman's Navigator Special Winter Reserve
Cape Ann's Fisherman's Navigator is a double bock German style lager. Light reddish brown and flavorful, this is a super standard double bock. I'm a big fan of bocks, unfortunately, this beer provides nothing special.
Would I recommend it? Eeh, it's hard to say. I suppose if you're in Gloucester, Massachusetts, and this is the same price as a Michelob AmberBock, you might as well support the smaller local brewery. But really there's no reason to seek out the Fisherman's Navigator when you can likely get something similar from one of the big boys or from a microbrewery near you.
Fisherman's Brew American Amber Lager
Yeasty and bitter, Fisherman's Brew lived up to its unappetizing name and was the resounding loser from the March shipment.
Would I recommend it? No.
And now, April.
After the March shipment got the full write-up, I tasted and took notes on the April shipment. However, before I could write them up, things got busy here. Then I did some traveling. Anyway, long story short, it's been so long since I tasted the April beers that I don't really remember them. So here are my tasting notes for each beer along with a description from the brewery. Recommendations on these beers should be considered "for entertainment purposes only."
Flying Bison Brewing Company
Buffalo IPA
Tasting notes
Fruity and bitter
Crisp and easy drinking, though the flavor lingers
Caramel color
Brewer's Description
"Buffalo IPA is a combination of two big, classic IPA styles; English and American. We use English pale malts as a base, for a firm backbone and solid platform to accept plenty of hops. Then we layer three different hop varieties. First, we add plenty of bitterness to balance the malt, then lots of fresh, hoppy flavor, and finally we dry hop with Galaxy hops from Australia for a bright, tropical fruit bouquet."
Would I recommend it? Well, it's an IPA, so probably yes.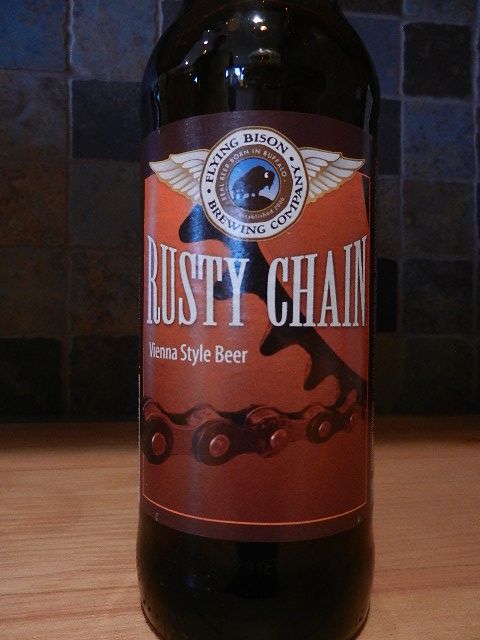 Rusty Chain
Tasting notes
Seems like a bock
Reddish
Crisp, clean
Brewer's Description
"Medium bodied Vienna style amber beer. Soft nutty, malt flavor with a hint of caramel. Just enough German hops to balance the finish. Available on draft at your favorite local establishment. The 'Chain' goes great with chicken, milder fish and especially with grilled vegetables."
Would I recommend it? According to my notes, it reminded me of a bock, and I like bocks, so I'll go ahead and recommend this one, too.
Santa Fe Brewing Company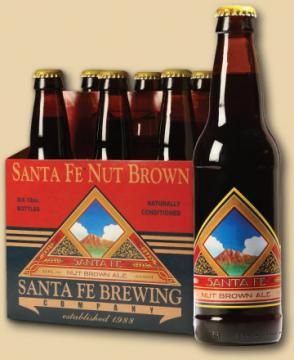 Nut Brown Ale
Tasting notes
Pretty standard nut brown
Not as sweet as a Newcastle but in that ballpark
It's hitting all the right spots on a cold wet day.
Brewer's Description
"The Brown Ale style originated in the pubs of England, where beer drinkers desired a beer that was both flavorful and complex, but at the same time mild enough to be a session beer. The Santa Fe Brewing Company's interpretation of this style uses a combination of high mash temperature, hard water, and low-alpha acid hops to produce a product that is both true to the style and distinctly Santa Fe. Brewing jargon aside, Santa Fe Nut Brown Ale is an easy-drinking beer, mild, smooth, and always a favorite."
Would I recommend it? I know I've complained that brown ales don't have enough flavor, but it looks like this one was doing it for me. So yes, I will recommend this, especially on a blustery spring day.
State Pen Porter
Tasting notes
Coffee
Smooth
Creamy
Black
Good head
Brewer's description
"A trademark beer of the Santa Fe Brewing Company's master brewer, Ty Levis, the State Pen Porter has every reason to be one of his favorites. It is flavorful, swimming with notes of nuts and chocolate; it is drinkable, so drinkable that it is almost as if pint after pint were drinking itself."
Would I recommend it? Well, the tasting notes are making me want one right now, so let's go ahead and make the April shipment a perfect four for four and recommend the State Pen Porter, too.