Aug02
Tags
Related Posts
The Burner Beer Project, June Edition
Welcome back to the Burner Beer Project. By my count this shipment, which arrived at the end of June, will be the last of the Beer of the Month Club deliveries. It's been great fun tasting and drinking and talking about all these beers this year. And fear not, I'll likely be back at the beginning of the winter to do a roundup of all the fall seasonals and Oktoberfest beers I try this autumn.
Lost Coast Brewery
Great White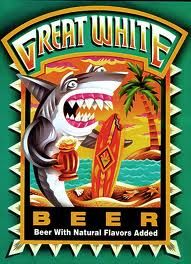 The name Great White must refer to the shark becasuse the beer is shockingly yellow. Great White has a very light flavor and it was really rather refreshing. I could easily slam the whole thing on a hot day. Since this isn't really my type of beer, I checked in with Laura, who said it was "light and crisp" but "not a lot of citrus notes" despite what the label said.
Would I recommend it? No. I'm always a bit baffled when we get a craft beer of this type. That is to say, even if you brew the best ever really light refreshing lager, what distinguishes it from a cheap domestic lager? If you lined up the best light craft lagers against the big three, who among us could really pick out one from the other? Basically you're just paying an upcharge for the cheesy Jimmy Buffet-inspired lable.
Alley Cat Amber
Hmmm–another amber. Regular readers will know I am not a fan. Alleycat is a little fruity with a fairly light and creamy body. I'm really pretty surprised by this beer, as it actually has some good complex flavors going on and doesn't succumb to Amber Sweetness Syndrome.
Would I recommend it? Yes. I'm generally down on ambers around these parts, but there's enough going here to recommend the Alleycat Amber. Probably not the best beer for a really hot day, but a good beer overall.
Sebago Brewery
Frye's Leap IPA
Frye's Leap is a light-bodied amber colored IPA. It's lightly hoppy up front, sort of yeasty on the back end, with a bitter note. There's some good hyperbole in the ad copy: "[T]his beer is every bit as exciting as its namesake, the popular cliffs on Sebago Lake." Your excitement may vary depending on how much you like this kind of fruity, hoppy bitterness.
Would I recommend it? Sure, this is a nice little IPA. It's nothing to seek out necessarily, but it's a good beer.
Lake Trout Stout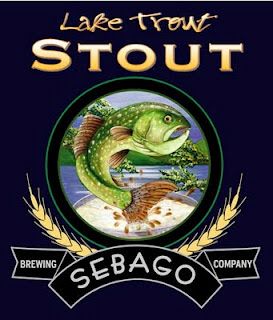 Another stout amidst a string of 100-degree days. I was all set to complain here about a lack of succor from the Beer o' the Month folks during one of the hottest summers on record, but it's actually, I shit you not, crisp. It is really light for a stout. The Lake Trout is pitch black with a powerful roasted flavor that gets stronger with every sip.
Would I recommend it? Yes. This is a good, if somewhat different, stout. I'm not convinced that it is a good beer for a hot day, but it's not a bad beer on a warm day.